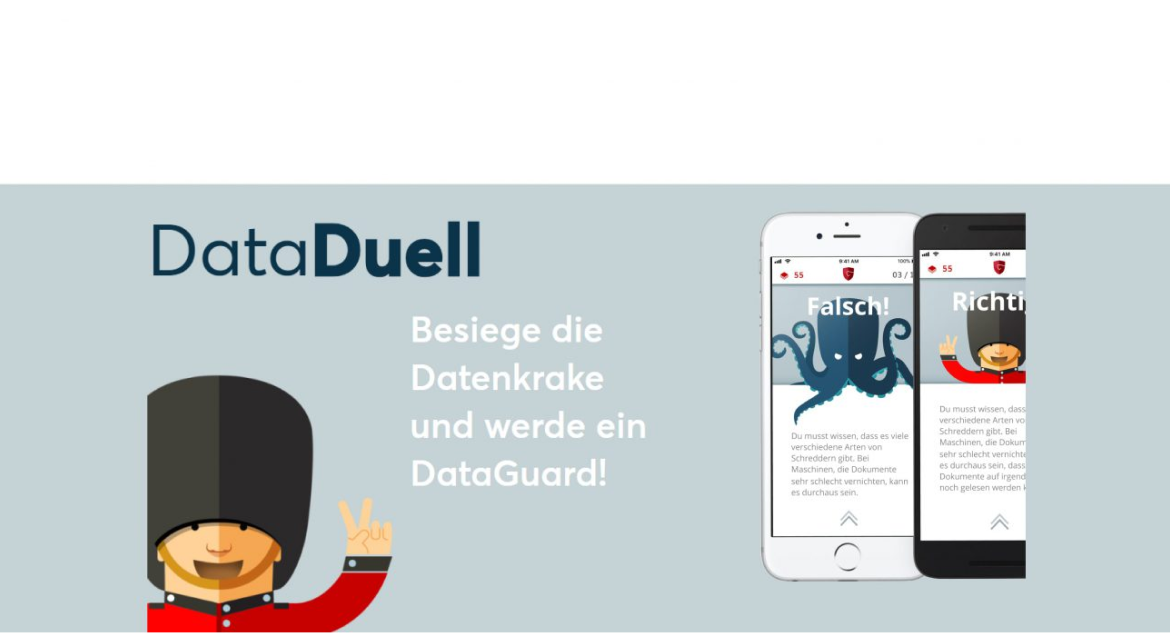 28. January 2019
The app DataDuell gives data protection a playful touch.
With the DataDuell app, the legal technology company DataGuard makes its contribution to the European Data Protection Day on 28.01.2019. DataGuard is committed to privacy and wants to ensure a playful introduction to the subject.
To raise awareness of data privacy, DataGuard has launched an app. The functionality is reminiscent of the famous dating app Tinder. With a swipe, the user decides whether a statement on data protection is right or wrong. Subconsciously, the user develops a sense of privacy as well as the careful handling of their own data.
"For laymen the 99 articles of the GDPR are hardly accessible. The topic of data protection appears somewhat dry and abstract, but it is becoming more and more important in a growingly digital world. Everyone should develop a deep understanding of how they handle their personal information," says Kivanc Semen, active privacy advocate and DataGuard's co-founder. His company is one of Germany's leading external data protection providers. DataGuard supports over 1,000 customers in 400 cities in the implementation of the General Data Protection Regulation (GDPR). A machine learning platform developed by DataGuard itself helps their almost 100 lawyers, IT experts and economists by accelerating or even automating recurring processes.
"Often the disclosure of your own data is very subliminal. For example, few people suspect a data leech behind the supermarket cashier, "explains Kivanc Semen. "In addition to our B2B business, we want to sensitize all people through the app DataDuell and convey our knowledge around the topic of data protection in a playful manner." Therefore, the app is available for free in the App Store and Google Playstore. Regular updates ensure that new questions and new levels are added over and over again.
Through the technology-based approach combined with individualized consultation, DataGuard can offer even small and medium-sized businesses excellent data protection for a small fee. "By enabling high-quality data protection for as many companies as possible, we indirectly secure the data of millions of people. That's our approach – it's about protecting people behind the data", says Semen. "The General Data Protection Regulation (GDPR) is no bothersome illusion of the European Union. An uncontrolled handling of personal data harbours incalculable dangers for every individual. In our eyes, privacy is a human right."
The app DataDuell is available for download in the App Store as well as in the Google Play Store.