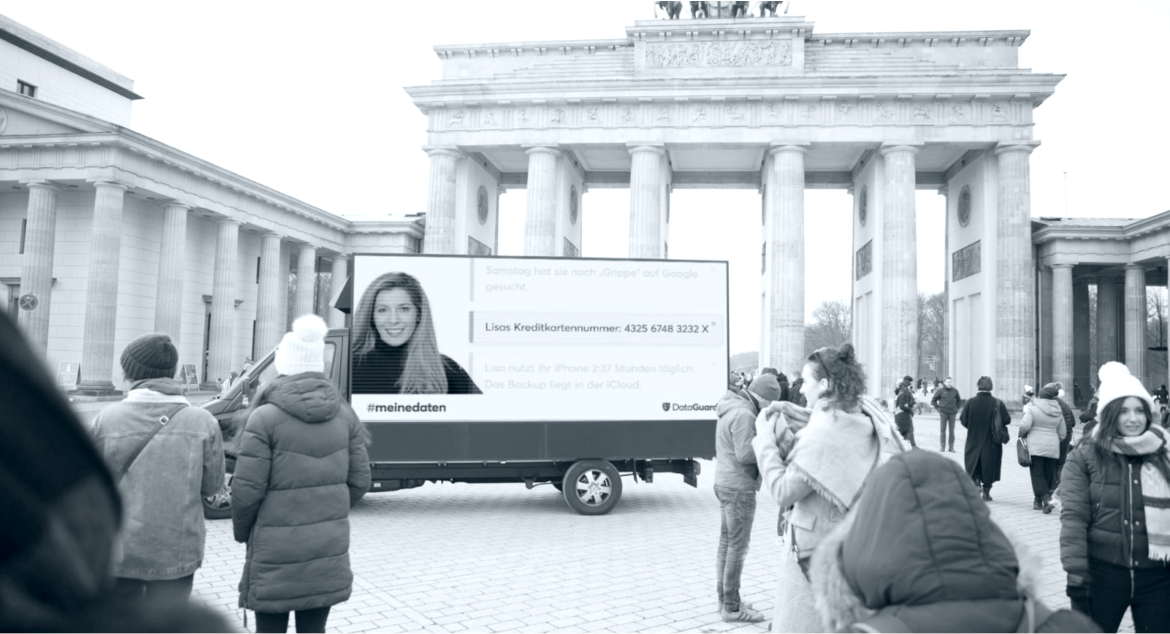 28. January 2019
Live Performance for the upcoming European Data Protection Day on 28.01.2019 in Berlin
With a live performance, the legal technology company DataGuard in Berlin sets an example for data protection. Today, on 25.01.2019 between 10:30 and 14:30, passers-by will learn about protagonist Lisa at central locations in the capital. With the shocking revelations, DataGuard wants to sensitize the general public regarding the European Data Protection Day next Monday (28.01.2019).
"Lisa's last meal had 345 calories." "She was under psychological treatment for 185 days." Details such as these appear on the 4.5 by 2 meter screen installed on a truck. Before that stands a young woman on a stage: Lisa. It's her secrets that are made transparent to everyone.
"Often the disclosure of your own data is very subliminal. For example, few people suspect a data leech behind the supermarket cashier", explains Kivanc Semen, co-founder and CEO of DataGuard. "The uncontrolled handling of personal data carries risks for everyone. This is something people can experience live in our performance."
The campaign is mobile. The first stop was at 10:30 am at the Brandenburg Gate. From there, the truck continues towards Kreuzberg. At 2:30 pm the tour ends with a last performance at Mehringdamm.
In addition, DataGuard launches their free app DataDuell on the occasion of Data Protection Day. It is intended to familiarize consumers with the topic of data protection in a playful way. The apps' functionality is reminiscent of the famous dating app Tinder. With a swipe, the user decides whether a statement to protect data is right or wrong. Subconsciously the user develops a sense for the careful handling of their own data. DataDuell is available for free download from both the App Store and the Google Play Store.
The hashtag #meineDaten accompanies the campaign in social media. On the dedicated website www.meinedaten.xyz you will find more background information about Lisa and DataGuard.